Update from 27.03.2023
Tesla has re-enabled the referral code system and made changes.
These have been updated in the guide.
—-
The Tesla Supercharger network is the best fast charging network for electric cars in the world. Since Tesla does not have any dealers who can take a commission on an order, the ordering process happens completely online.
To make it easier to make a purchase, Tesla has come up with something special. Every Tesla owner can create a kind of "voucher" after the collection, which he can give away. Tesla calls these "credits". These credits can then be used for various Tesla products, such as Tesla Supercharger credits, but also merchandise or Tesla vehicle accessories.
An example: Currently (as of 27.03.2023) every buyer of a Tesla vehicle (Model S, X, Y, 3) receives 5000 credits from Tesla, which can be redeemed in the Tesla App for 5000 KM Supercharger credits. This means that you get electricity in kWh for free that has an equivalent value of about 5,000 kilometres driven (in my experience, Tesla is very generous with the interpretation of 5,000 kilometres).
You can find the exact terms in the Tesla wording under this link:
Tesla referral program terms and conditions
Here you can get this "voucher" for your free credits: Tesla Referral Code
Tesla Referral Code - How to do it right!
There are reports that an order was placed without the promised credits, despite the Tesla referral code. So that this does not happen to you, I show you how you can make sure that your credit is guaranteed.
Step 1 - Get Tesla Referral Code
Use a Tesla referral link. It doesn't have to be mine, but it would make me very happy – after all, I did the work for this tutorial 🙂
The structure of a Tesla referral link looks like this:
https://www.tesla.com/referral/FIRSTNAME+NUMBERS
My first name is Benjamin. Since I'm not the only Benjamin who bought a Tesla, there is always a sequence of numbers added. My referral code is: 
https://www.tesla.com/referral/benjamin56747
By the way, Tesla also has its own "shortlinker" that shortens the links – they start with "ts.la". Therefore, there are Tesla referral codes with a different domain. For example, mine is http://ts.la/benjamin56747
Step 2 - Tesla referral code on new or inventory vehicles?
Once the referral link is clicked, the following overview page should open:
Now it is important to choose the right option. Do you want to order a new car according to your wishes?
Then click on Order Now in the box of your desired model.
Want to buy a Tesla vehicle from the inventory with short delivery times and a possible discount?
Then scroll down a little further and click on Order Now after the heading Inventory.
Step 3a - Tesla Referral Code when purchasing via custom order
Once you have clicked on Order Now for a model of your choice, the configurator opens with the following window popping up:

You can now close the window and complete your configuration!
Before you enter your address and payment details on the Tesla website, the following note should also appear at the top of the website in the last step – if you can see this, nothing should stand in the way of your credit:
Step 3b - Tesla Referral Code when purchasing through existing inventory.
If you have clicked on Order Now under the headline "Inventory ", an overview of all vehicles in the inventory will open. It is also possible that the stock is temporarily empty – in this case no cars will appear. However, if the Tesla Referral Code has been successfully recognised, you will find the following note at the top left: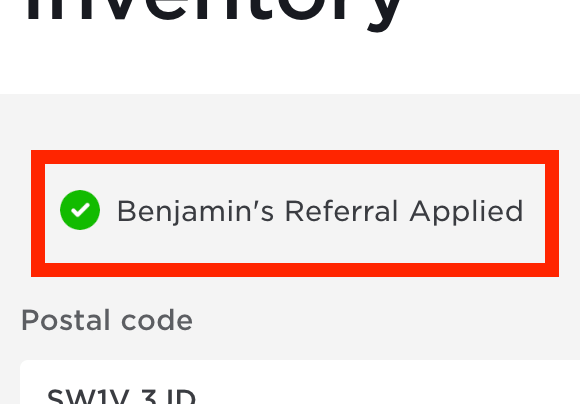 Just as when ordering a configured new car, the last step displays a notice that the Tesla Referral Programm has been successfully used:
If the message did not come, you should reload the pages again or open them in incognito / private browsing. 
Step 4 - to be completely safe with the Tesla Referral Code
That's it! If you want to be absolutely sure that your referral link is submitted to Tesla, you can check it again with the following trick. 
The following must always appear in the URL:
&referral=benjamin56747
If this part appears, the referral code is guaranteed to be transmitted. Of course you can also use another referral code than my "benjamin56747". 
Tesla Referral Code FAQ - Frequently Asked Questions
Unfortunately, this is no longer possible. A Tesla referral code must be added mandatory before ordering (as here in the instructions)!
Yes, you can earn loyalty credits for a second vehicle with your own Tesla Referral Code – but you only get the credits points once, not twice!
According to the Tesla Terms and Conditions, after 12 months from the time the credit was added. However, the expiry date can be extended if new credits are added through referrals during the current period.